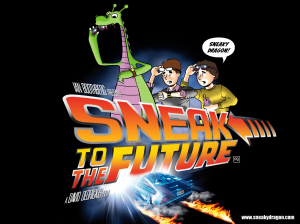 Hey, Sneakers, welcome back to another fine episode of everyone's favourite podcast Stop Podcasting Sneaky Dragon! This week the votes are in and we have the results for Best Local Podcast in the Georgia Straight's 2014 Readers Poll! How did Sneaky Dragon fair? Well, you'll just have to listen to hear the incredible disappointment. Also, this week: Ian thinks variety shows are lacking in variety; Dave forces his wife to watch Harold and Maude and Ian wonders when Ruth Gordon was young; everyone knows how great updates are; speaking of updates, Dave corrected the problems caused by a recent update on the website so, please, comment away; also on the subject of updates: Dave gives an update of the local teacher's strike, which has been disappointing to everyone; Ian has strong views on harmony singing; and, finally, Ian and Dave discuss sequels that have ruined the original film. Also, it's Sid Fields.
Do you have suggestions for sequels that spoiled the original film? Let us know here on the website, on our Facebook page, via Twitter or you can email us at sneakyd@sneakydragon.com.
Meanwhile, we are still asking for questions for our 150th Q&A episode. Your questions will make our show better! Also, you can win fabulous prizes if your question is drawn! Each question equals one chance.
Thanks for listening.
Podcast: Play in new window | Download
{ 1 comment }