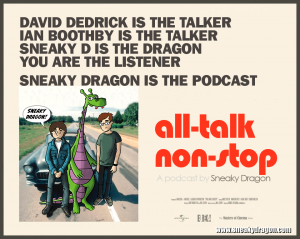 Hello, Sneakers! Welcome to the Sneaky Dragon episode that you created! This week Ian and Dave answer your questions and thank you, everybody, for sending so many! They tell us their favourite podcasts; worst thing about doing Sneaky Dragon; earliest memory; weirdest movie they've ever seen; advise on baby names; give themselves a superpower; cast the all-female Ghostbusters; are invited to visit Chicago and Brazil plus many more!
And finally, one of our lucky listener's name is drawn for the the grand prize: a Sneaky Dragon t-shirt of your choice. Congratulations to…well, you'll just have to listen, won't you?
Grand prize winner! Please send us your address so we can your shirt and other prizes in the mail. And anyone else who sent us a question, please send us your address and we have a little prize package for you too. Send your addresses to Sneaky Dragon, care of sneakyd@sneakydragon.com.
As with our last Q&A episode: we are so sorry for the extra-long show!
Department of Corections: The Alec Guinness movie that Dave referenced was actually a 1950 – not 1930s – film called Last Holiday. It is a pretty good film, but, as Dave mentioned, the ending is pretty dumb.
Podcast: Play in new window | Download
{ 5 comments }