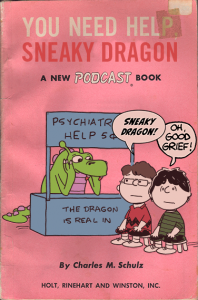 Hubbi Snubbeakers and welcome to another episode of the highly successful podcast failure: Sneaky Dragon! This week Ian reveals his real voice! (Or does he?) He also attempts to ward off his oncoming cold possibly caused by the ALS Ice Bucket Challenge that he and Dave undertook. They both agree that ice water is cold. Dave plays curmudgeon this week: first, declaring there are too many charities (an odd stand, we must admit) and coming down firmly against development (but in a certain unpleasant "Not In My Backyard" sort of way). The show then takes a turn into Sneaky Psychoanalysis as Ian reveals he is going through some family troubles and Dave is not much help. Finally, Ian bemoans his becoming a more empathetic and caring person. Expect a more boorish Ian soon!
We will continue to remind our listeners that our big 150th episode is coming up. Ian and Dave would like to answer your questions! So get those to us in any way you choose – via Facebook, via Twitter, via email or message in a bottle! All the questions will go into our regulation Sneaky D competition hat for a prize draw. The prize is a Sneaky Dragon t-shirt – your choice of title card. Each question equals one chance! EXCITING!
Also, if you are an Amazon Prime member living in the US or the UK, do Dave a solid a vote for Whit Stillman's The Cosmopolitans in their dumb "Pilot Season" contest. Please vote here! (Please don't become an Amazon Prime member for this – unless you were already planning to do so. Dave doesn't need the guilt.)
Finally, Dave is a guest on the Dance to Death Afterlife podcast discussing death and The Beatles, as you do. Apparently, it's more than one episode and Dave is described as a "Beatles expert" so now he feels like a big phony. But listen to the show! It was a lot of fun.
Thanks for listening.
Podcast: Play in new window | Download
{ 3 comments }