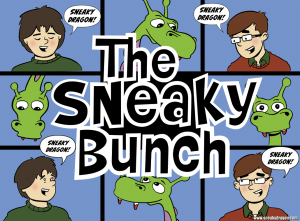 Hello, Sneakerinos! This week on the show we welcome in the New Year…or do we? Ian and Dave are all ready to put 2014 behind them and get a head start on 2015. Discussed on the show this week: the porn rainbow; recording in an igloo; and mom troubles. The guys spend a lot of time talking about old TV shows: Land of the Lost, Gilligan's Island, The Brady Bunch, I Love Lucy and Leave It To Beaver all get a look in. Dave wonders about the dismal American comedy of the Fifties; they ponder wolves in sheep's clothing and finish up the first show of the year with a lot of pet talk: Ian's cat history is reviewed and Dave's dogs are also mentioned, including the guest who never left: Al Capone.
One last reminder to come on down to Slickety Jim's Chat'n'Chew on January 4th at 7:00 for PODMASH, a new podcast format featuring three different podcasts discussing the same topic for twenty minutes each. This show will feature Sneaky Dragon, Dazed and Convicted and Science Us.
Thanks for listening.
Podcast: Play in new window | Download
{ 14 comments }