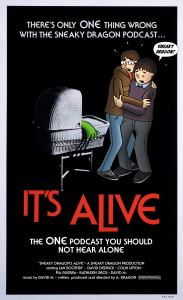 Woah! The big two-oh-oh! Yes, Sneaky Dragon reached its two hundredth episode and we did it live! Ian and Dave were joined by friends of the show Colin Upton, Pia Guerra, Kathleen Gros and David M. to discuss Asterix absolutely; perform some sketches; uncover The Flinstones; travel back in time; take a slang challenge; and bat around The Beach Boys.
David M. kindly worked up a medley to celebrate Sneaky Dragon turning 200 and Nina Matsumoto didn't let us down with some great gifts that brought a tear to Dave's eye.
We had a lot of fun doing the show so thanks to our friends who came out to see the show and be on the show. We appreciate the support.
Please visit Colin on his Facebook page; Pia at her website; Kathleen at her Tumblr page; David M. on his YouTube channel; and Nina Matsumoto at her Tumblr page.
And thanks to all of you listeners – both old and new – for your fabulous support too! We couldn't (be bothered) to do this without you.
Podcast: Play in new window | Download
{ 0 comments }