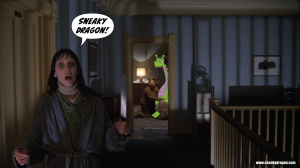 Oh boy, everybody, welcome to Episode 105! The best 105th episode of Sneaky Dragon EVER!!! This week Ian is breathless with excitement – we have some pretty big news; he also has dog problems – big dog problems; Ian and Dave moan about their sugar fasts (Dave doesn't seem to be taking his very seriously); Facebook is making Dave sad; Ian explains Internet etiquette; then he blames the Internet; then he praises the Internet (it's all very confusing for Dave); Ian and Dave visit Oz; then they visit the Overlook Hotel and talk about decoding The Shining and some YouTube videos Dave likes (you can find them here); Ian does some Dave jokes; the true Dave is revealed; and this week, the FINAL DECK TALK (for the year).
Don't forget: We're planning on doing another one topic/no tangents show soon so send in your suggestions. The winner gets a t-shirt and some other cool stuff.
Also, Ian wants to hear your best Dave joke: something that would make daughters in the back seat of the car groan with pun pain. Once again, prizes are offered!
Thanks for listening.
Podcast: Play in new window | Download
{ 0 comments }