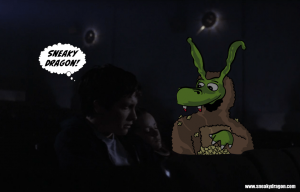 Guten Tag, meine Sneaky Freunden! Ian said we had a packed show this week and he was right! First off, Ian and David dropped some hints that a big show is in the offing – a big show celebrating Sneaky Dragon's 100th episode. We have some guests planned and we'll be making announcements very soon. Well, as soon as we have a place to stage the show! Also this week: Ian's sure-fire, get-rich, high-concept teen TV show pitch (it's sure to make the boys millionaires); they discuss vanity workouts (I know I always do some push-ups before writing these summaries); Ian and Dave helped someone move this week and Ian has lots of compliments for Dave (Dave, pointedly, does not return the compliments to Ian. Hmmm…); topic for debate: when is a house haunted and when is it possessed?; the most annoying animated character is discussed and I don't think you'll be surprised by the answer; Ian talks about Egghead – a character from the Batman TV show that David has never seen – that doesn't stop them from wringing all the puns they can from the concept though (…sigh); Deck Talk returns this week with a very…er…interesting theme; the finale to Dexter gets a big "meh" from Ian (and the world); a public service announcement: Watch out for cyclists! Finally, Ian and Dave discuss listener Maire Hook's Top Ten movie list. It's a lot of fun!
Thanks to Maire for sending us her list of Top Ten movies! We love to read your comments and questions so don't hesitate to write to our Facebook page (just click on the icon to your right), send us a tweet on Twitter (also to your right) or leave a comment below.
Thanks for listening!
A video extra this week! As Dave mentioned during the show, he took some video of the incredible monsoon that attacked his shop last weekend. Take a look and see why Deck Talk has mostly been Tarp Talk these last two weeks!
Mike Keysos, one of our friendly Sneakers, posted this great tribute to Deck Talk on the Sneaky Dragon Facebook page. Hilarious, Mike!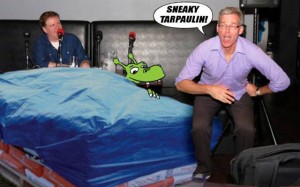 Podcast: Play in new window | Download